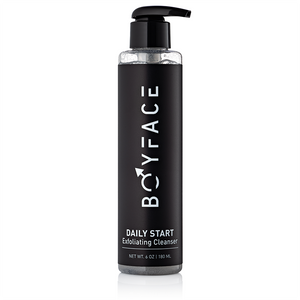 DAILY START EXFOLIATING CLEANSER/ Available on Amazon
boyface
Regular price $20.29 $28.99 Sale
100% Money Back Gaurantee!
DAILY START EXFOLIATING CLEANSER
A daily skincare routine is vital so men can maintain a youthful, healthy complexion. BoyFace products comprise natural ingredients with long-term benefits to keep skin looking and feeling firm, fresh, and flawless.
By removing the dead layers that are compacted on top of the skin, you essentially allow the skin to "breathe" better. This process will also make your serums and moisturizers last longer (because you are not applying to dead, flaky skin, which does not absorb).
Formulated with clean, natural ingredients, this multi-action cleanser effectively dissolves build-up and removes dirt, debris, and dead skin.
The cleanser's first step removes dirt and oil giving your face a clean slate. The purifying exfoliants unclog the pores for a deep, full-coverage clean.
Use this cleanser twice a day. Its soothing, icy cool feel is a calming kick start to your morning and a fresh finale before sleep.
Combined with a soothing serum, hydrating moisturizer, and daily sun treatment, this cleanser is an essential piece of a man's daily skincare regimen.
HOW TO APPLY: Wet your face then massage face cleanser onto skin moving your fingers in small, circular motions. Apply on your forehead, cheeks, nose, and chin and then rinse with warm water. Apply twice a day.
INGREDIENTS: Aqua (Water), Acrylates Copolymer, Cocamidopropyl Betaine, Jojoba Esters, Butylene Glycol, Saccharum Officinarum (Sugar Cane) Extract, Pyrus Malus (Apple) Extract, Camellia Sinensis Leaf Extract, Citrus Limon (Lemon) Fruit Extract, Citrus Aurantium Dulcis (Orange) Extract, Glycerin, Polysorbate 20, Sodium Hydroxide, Phenoxyethanol, Caprylyl Glycol, Ethylhexylglycerin, Hexylene Glycol
NET WT. 6 OZ | 180 ML
---