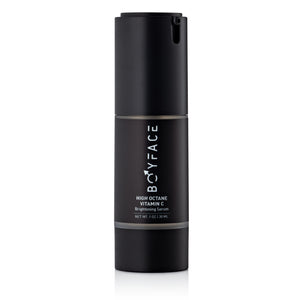 HIGH OCTANE VITAMIN C BRIGHTENING SERUM/ Available on Amazon
boyface
Regular price $31.49 $44.99 Sale
100% Money Back Gaurantee!
HIGH OCTANE VITAMIN C BRIGHTENING SERUM
Men should be authentic and bold with their skincare routine. A fast-paced, action-packed lifestyle is intense and oftentimes exhausting, so keeping a clean, poised grooming routine with anti-aging qualities and a replenished complexion is a healthy choice. 
With two boosts of Vitamin C (oil-based and aqueous), this serum features a tremendous brightening agent that helps maintain skin pigmentation, prevent dark spots, and fight off discoloration. It adds brightness that invigorates the skin for an energized, radiant appeal. Skin tone can seem dull or discolored, so Vitamin C helps neutralize free radicals and makes skin tone more lively and consistent.
Vitamin C reduces inflammation and triggers the body to repair damaged skin and restore itself to its natural appeal. It naturally regenerates by enhancing the production of collagen and elastin, protein fibers that keep skin plump, firm, and balanced. The antioxidants within Vitamin C prevent dark spots and discoloration by deterring the skin's melanin production.
Moisturizers have nice, smoothing effects but tend to stay on the skin's surface. Serums go below the skin and beyond with robust, active antioxidants and long-term staying power. 
This serum combines Vitamin C antioxidants with peptides to brighten complexion and keep skin fresh, clean, hydrated, and energized. With each application, men can reap the benefits of healthy skin and handsome, confident appeal. 
HOW TO APPLY: Use this Serum as the step in between cleansing/exfoliating and moisturizing. After washing face, apply the serum and in a few minutes it will penetrate directly into the multiple layers of the skin with a high concentration of active ingredients. Let sit five minutes so the serum absorbs into the skin and the beneficial nutrients start taking effect. A little goes a long way with serum due to its powerful ingredients so be sure to not over-apply. Keep serum stored in a cool, dry place and use within 6-12 months of opening.  
INGREDIENTS: Aqua (Water), Propanediol, Glycerin, Butylene Glycol, PEG-4, Oligopeptide-68, Sodium Hyaluronate, Tetrahexyldecyl Ascorbate (Vitamin C), Hydrogenated Lecithin, Magnesium Ascorbyl Phosphate (Vitamin C), Polysorbate 20, Aloe Barbadensis (Aloe Vera) Leaf Extract, Panthenol (Pro-Vitamin C), Sodium PCA, Pentadecalactone, Sodium Oleate, Hydroxycinnamic Acid, Disodium EDTA, Carbomer, Phenoxyethanol, Triethanolamine, Caprylyl Glycol, Ethylhexyl
NET WT. 1 OZ | 30 ML
---