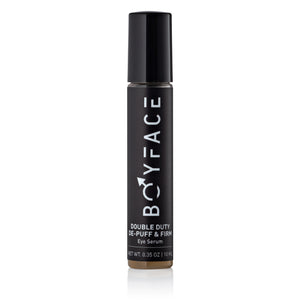 DOUBLE DUTY DE-PUFF & FIRM EYE SERUM
boyface
Regular price $20.29 $28.99 Sale
100% Money Back Gaurantee!
DOUBLE DUTY DE-PUFF & FIRM EYE SERUM
Eyes are one of the most sensitive and significant parts of the human body. It is essential to select a reliable serum to preserve and rejuvenate this fragile area of thin skin layers. This double duty serum performs more than just a couple of functions. 
Revitalizes tired, weary eyes with potent antioxidants that minimize the aging process while keeping a man's skin firm, smooth, soft, and refined.
Designed to reduce dark circles and remove those so-called "bags under our eyes." Its rich ingredients temporarily tighten the skin which gives a firmer look and works to eliminate wrinkles and lines.
Includes caffeine, that when applied under the eyes, helps reduce black circles resulting from inflammation and puffiness. Caffeine limits blood from building up under the eyes that causes dark shadows. 
Did you know wet skin is up to ten times more permeable than dry skin? With this in mind, apply serum while the face is moist to ensure the active ingredients and beneficial antioxidants are performing most effectively.
BoyFace's products are designed to provide immediate and long-term benefits to a man's health and physical appearance. 
HOW TO APPLY: After washing face with an exfoliating cleanser and while the skin is still damp, use a small amount of serum on the fingertip and gently press in a small, circular motion under and around each eye. Lightly tap the area for up to a minute to ensure the serum penetrates. Let sit for five minutes so the ingredients fully absorb into the skin. 
For best results, apply twice a day. When applied at night, the skin absorbs the serum as you sleep, ideal for reducing wrinkles. A moisturizer can be applied after serum to boost the nutrients under the skin reinforcing a soothing feel and radiant shine. 
INGREDIENTS: Aqua (Water), Glycerin, Ascophyllum Nodosum (Algae) Extract, Asparagopsis Armata (Seaweed) Extract, Ribose, Caffeine, Coffea Arabica (Coffee) Seed Extract, Chrysanthellum Indicum (Golden Chamomile) Extract, Sodium Phytate, Acetyl Cysteine, Lecithin, Dicaprylyl Ether, Tocopherol (Vitamin E), Ubiquinone (CoQ 10), Sodium Stearoyl Lactylate, Helianthus Annuus (Sunflower) Seed Oil, Sodium Acrylates Copolymer, Caprylohydroxamic Acid, Caprylyl Glycol, Butylene Glycol, Chlorphenesin, Sorbitol, Potassium Sorbate
NET WT. 0.35 OZ | 10 ML
---